Getting ready for our Fall 2018 Annual BBB Undergraduate Research Poster Competition - November 15th!
If you are interested in preparing a BBB National Research Grant Application that can be applied toward your project, please see Dr. Fadool for details.  Application are due to National by September 27th.
---
We would like to announce the winners of the Fall 2017 Annual BBB Undergraduate Research Poster Competition!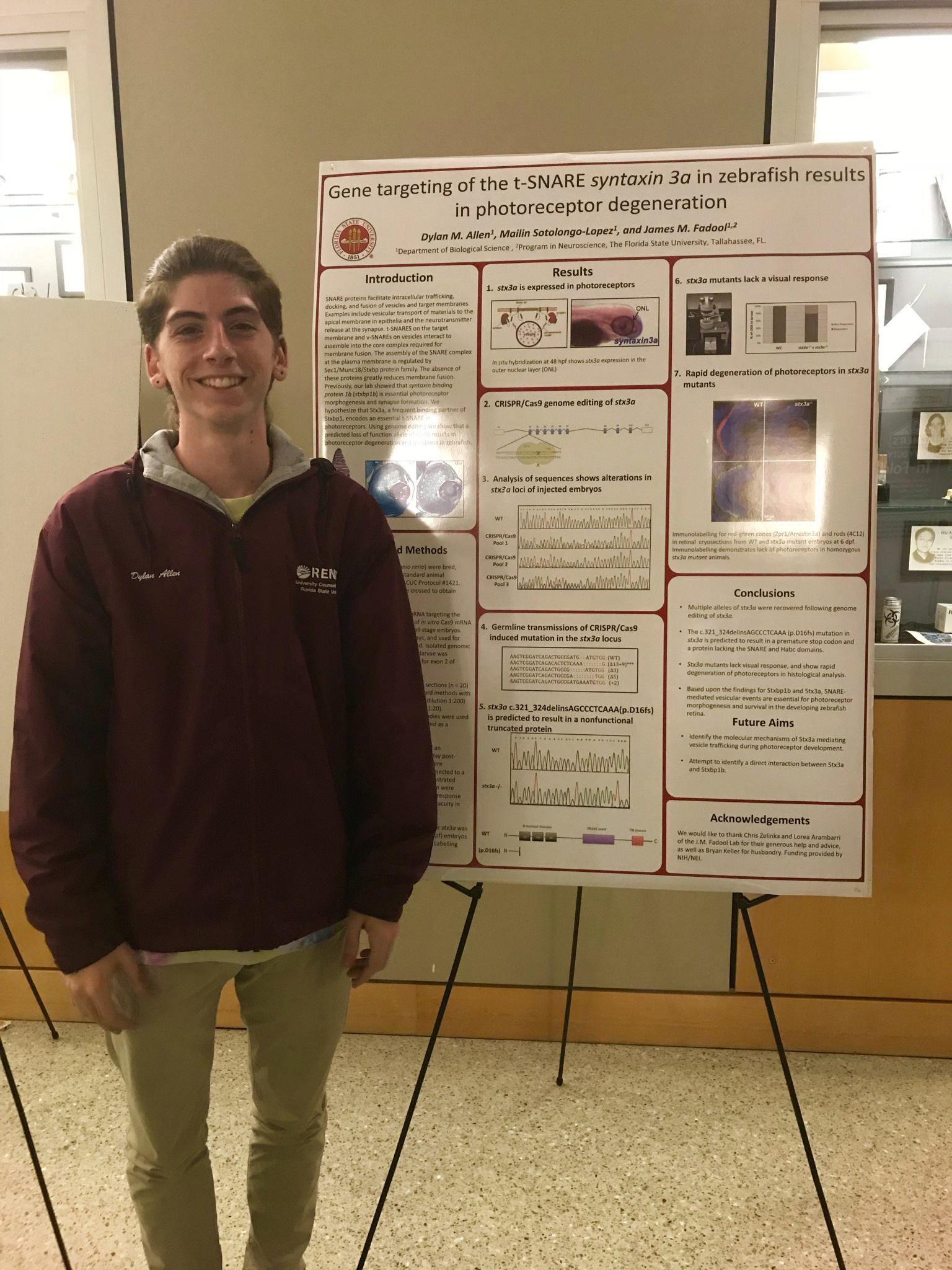 If you are a winner, please arrange to stop by D. Fadool's office and pick up your award.
1st Place (Trip to Nationals) = Mr. Dillan Allen (J. Fadool laboratory); "Gene targeting of the t-SNARE syntaxin3a in zebrafish results in photoreceptor degeneration".
2nd Place (Grad/Med School Application Fee) = Ms. Taylor Budine (Dennis Laboratory); "Disphenol-A as an estrogen mimic altering chromatin structure:  Link between environmental toxins and chromatin biochemical state".
3rd Place (One Year Magazine Subscription) = P. Lemert (McGinnis laboratory); "Investigating the role of transgenerational drought stress inheritance on physiological traits in Zea Mays".
4th Place (IMAX movie tickets) = E. Sanchez (Tang laboratory); "Zika virus structural protein substitutions enhance neurovirulence by improving virion stability in contemporary strains." 
5th Place (FSU Biology t-shirt) = A. Bell (Tang laboratory, mentored by Emily Lee); "Investigating the role of SREBP pathway in Zika virus infection"
AWARDEES: Please stop by Dr. Fadool's Office to pick up or arrange for your awards (KIN 3008).
ALL COMPETITORS: We will be calling for applications this spring (February) to the National Convention in Monteray, CA, which will be the first week of June 2018. Any undergraduate who competed in this competition (not just the winner) and any undergraduate that was awarded a national research grant award should consider making an application to the National. We hope to obtain funding to send 6-8 students to Nationals and hope you will consider placing an application for this event.
Thank you to all the competitors! You will receive a certificate of participation and your score sheet from the judges in early January through your advisor's mailbox. If you have not picked up your poster, it is in storage in KIN 3009...please come retrieve anytime.
Sincerely,
BBB Officers
title-inside title-centered
2