We would like to announce the winners of the Fall 2018 Annual BBB Undergraduate Research Poster Competition!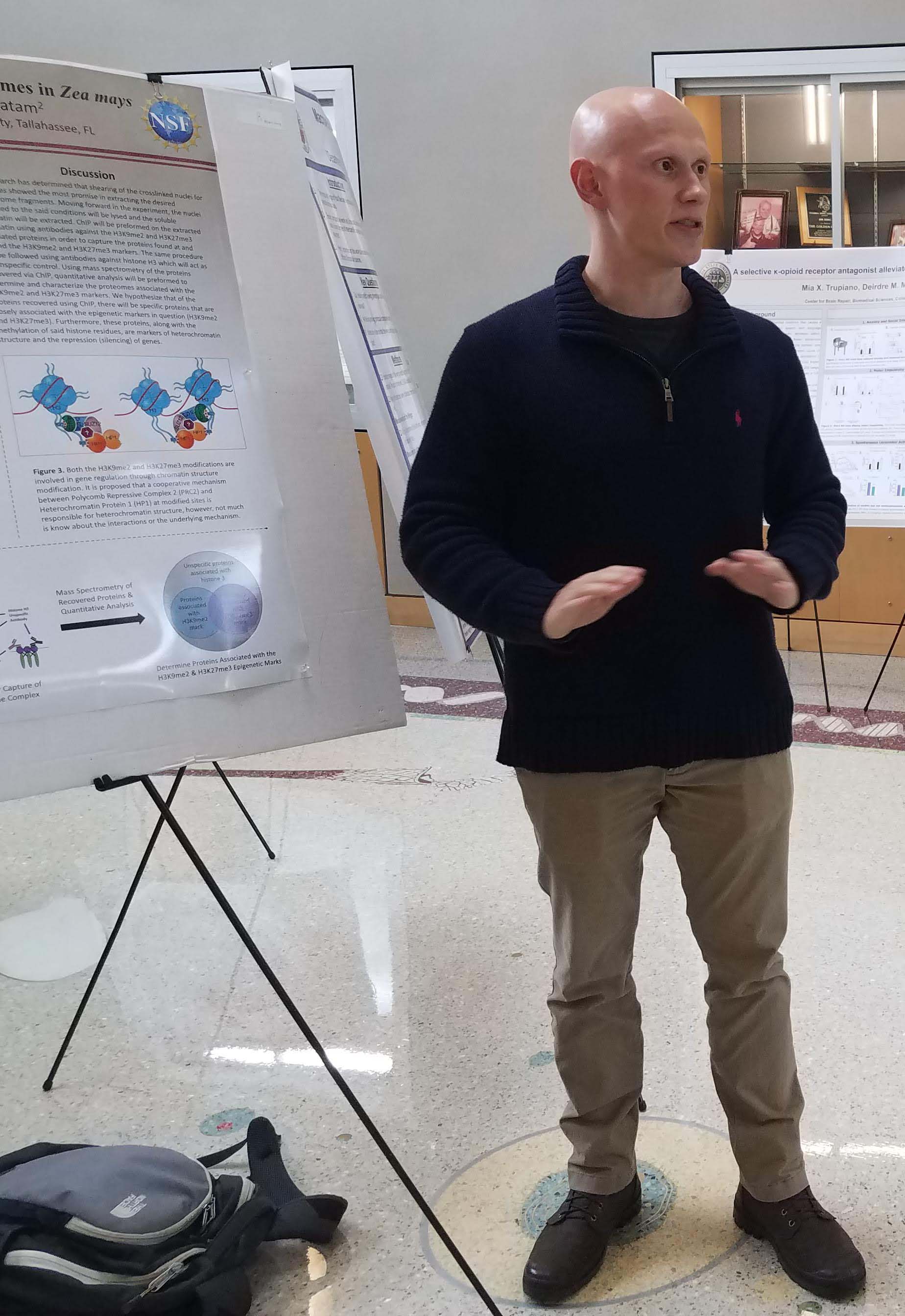 Congratulations to all the participants of the 14th annual BBB Poster Competition held on November 15th!  We will be mailing you certificates for your participation, if you are a BBB member you will received 15 points towards your graduation honor cords, and if you placed please come see Dr. D. Fadool to pick up your award (KIN 3008).  Everyone have a wonderful Thanksgiving Holiday!
1st Place (all expenses paid to the 2020 National Convention to present your research) = C. Martinez (Dr. Karen McGinnis laboratory) = Characterization of the H3K9me2 and H3K27me3 associated proteomes in Zea Mays.
2nd Place ($50 towards grad/med school application) = K. Bussey (Dr. Hank Bass laboratory and Katherine Easterling, mentor) = 3D molecular cytology analysis of female Hop (Humulus lupulus)
3rd Place (one year subscription to scientific journal) = D. Gatlin, N. Patel, and H. Surtaria (Dr. Debi Fadool laboratory) = Chemical ablation of the main olfactory epithelium (nose!) causes anosmia, neuronal cell death, and systemic metabolic changes
4th Place (two IMAX movie tickets) = C.S. Murray (Dr. David Houle laboratory) = Macroevolution of the wings and legs in Drosophila.
5th Place (FSU Biology T-shirt) = M. Trupiano (Dr. Pradeep Bhide laboratory) = A selective k-opioid receptor antagonist alleviates behavioral phenotypes in Fmr1 knockout mice
AWARDEES: Please stop by Dr. Fadool's Office to pick up or arrange for your awards (KIN 3008).
Thank you to all the competitors! You will receive a certificate of participation and your score sheet from the judges in early January through your advisor's mailbox. If you have not picked up your poster, it is in storage in KIN 3009...please come retrieve anytime.
Sincerely,
BBB Officers
title-inside title-centered
2