BBB Annual Poster Board Competition
Eligible participants are Florida State University undergraduate students conducting research. The competition takes place annually in the King Life Science Building in the Fall Semester - We welcome all STEM researchers with an enthusiasm for the Biological Sciences.  You do not have to be a BBB member to participate.
---
We would like to announce the winners of the Fall 2021 Annual BBB Undergraduate Research Poster Competition!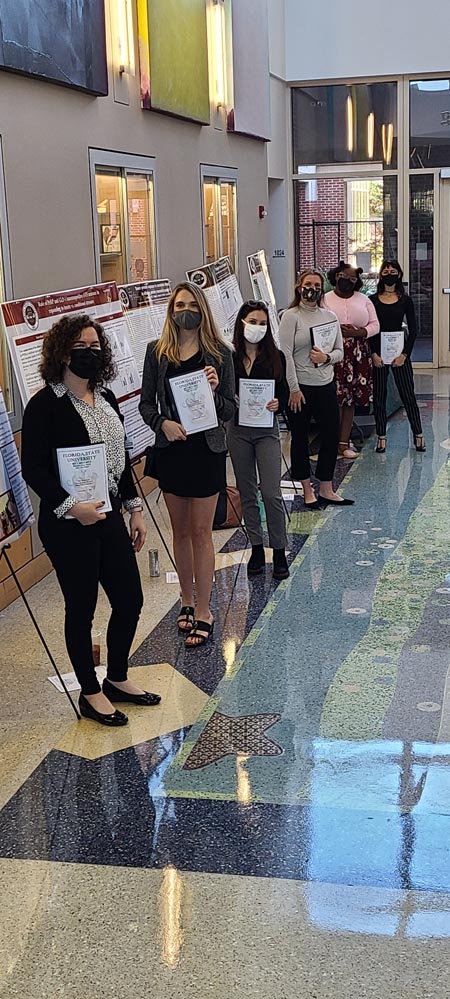 Congratulations to all the participants of the 17th annual BBB Poster Competition held on November 17th, 2021! 
1st Place (all expenses paid to the 2022 National Convention to present your research) =  Isha Chekuri (Mentor:  K. Bruno Laboratory, Mayo Clinic) - Mitochondrial Dynamics are Disrupted in CVB3 Acute Myocarditis
2nd Place ($100 towards grad/med school application) = Jenevieve Norton (Mentor:  E. Duval Laboratory, Biological Science) - Causes and Consequences of Nest-site Fidelity in Female Lance-tailed Manakins
3rd Place (one-year subscription to Discover or Scientific American) = Angeli Canakeratne (Mentor:  P. Bhide Laboratory, Biomedical COM) - Effects of Kappa Opioid Receptor Antagonists in a Fragile X Mouse Model
4th Place (TIE) (two IMAX movie tickets) = Marley Shouldice (Mentor:  N. Underwood Laboratory, Biological Science) - The effects of fertilization and host plant on variability in herbivory and herbivore growth of the generalist Spodoptera exigua on the crop Brassica oleracea AND Camilla May (Mentor: D. Fadool, Biological Science) - The Therapeutic Potential of Cannabidiol
5th Place (TIE) (FSU Biology T-shirt) =  Claudia Cedeno & Ezabelle Franck (Mentor:  D. Fadool, Biological Science) - The Therapeutic Potential of Chronic Administration of Cannabidiol for Treatment of Anxiety AND Claudia Silver ((Mentor:  D. Fadool, Biological Science) - Does prenatal exposure to cannabidiol influence changes in olfactory sensory neurons and success of birth?
Thank you to all the competitors!  You should receive participation certificates and your judges critiques in the mail to your mentor's laboratory.  Please do consider to apply to attend the national convention (100th anniversary of the society!!) that will be held in May, 2022.  We hope to provide travel scholarships to 6 to 8 undergraduate researchers to compete in oral and poster platforms for Florida State University, Sigma Tau Chapter of BBB.
Sincerely,
BBB Officers